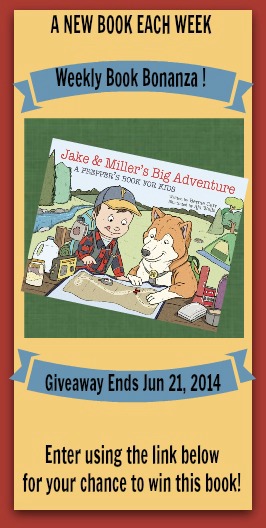 Far too often children become either frightened and bewildered or left out while adult family members plan and prepare in hopes of securing their future. Jake & Miller's Big Adventure: A Prepper's Book for Kids  not only encourages children to help but also helps the parents and grandparents alike to emphasis the fun and adventure in prepping!
This uplifting story is written from the perspective of both the somewhat nervous dog, Miller and his owner ,Jake. Jake leads the way with Miller happily along the trail as they prepare for a variety of adventures!  Their day-dreaming take them far, but that's okay because this helps them to better plan for what may lie ahead. From bug spray to water, Jake and Miller are prepared for just about everything. And don't forget that important can opener! Food is on Miller's mind a lot!
Jake & Miller's Big Adventure: A Prepper's Book for Kids is an easy to read book, short enough for elementary school age children to get through, but it's also the right length to be a great read-a-loud as a bed time or nap time story.  With the artwork and kid empowering impact, we feel pretty sure this might even become a great show-and-tell book for school! How cool is that? Your kids can help inspire others!
The author, Bernie Carr (Author of the national best seller: The Prepper's Pocket Guide: 101 Easy Things You Can Do to Ready Your Home for a Disaster
) spent time in this book focusing on things that kids really would consider if  they were to set out on an adventure. And even though Jake & Miller may 'prepare for the worst' – Jake's outlook is always enthusiastic and which aids in calming some of his Miller's fears.
This book can be a good tool to share your lifestyle with the children you're blessed to have in it…with out scary gas masks and tension.  Isn't that what we want to do with our children anyway? Calm their fears, equip them to be well prepared and all the while, not forget that there is join in this journey!
CLICK HERE – to listen to a recent radio show that Donna Miller had with the author of this book!
Below is the entry for for this giveaway. This is a very Pinteresting Week for our giveaway so be prepared to copy/paste a bit!
Keep checking back each week for another great book review and giveaway! Or… LIKE us on Facebook and get notices there as a new book comes up to win!
Full Disclosure: We hope someone from our blog is the winner. However, if you did not win,  please consider clicking the links above or shopping through the Amazon links below to buy the book(s). With the minor affiliate income we can continue testing, reviewing, sharing and blogging – and we hope – encouraging YOU. Thanks ever so much!