When it comes to gardening accessories, I really am a picky, tight-wad. I repair most of the ones that I have used before buying new and spend very very little on new gadgets from year to year.  Mostly because I've not found things that work like they say they will or that I cannot create cheaper than purchase.  That was until I was able to review The Roo.
Forever.  I do mean forEVER since I've been gardening I have used the 'shirt tail' method of harvesting something at any given moment. As an upright human with opposable thumbs, I figured this was my best shot at gathering my goodies from the garden when I ventured out without a basket, which, was often. Boy, was I wrong on so many accounts!
Enter The Roo – as in Kangaroo.  After being given the opportunity to play with this one (yes, the bright pink girly one – don't worry, it's not the only color) I'm completely sold on this being the better option for gathering and working in the garden. It's like the 'shirt-tails' method on steroids. You can harvest almost a full bushel without ripping collar or buttonholes! It even surpasses the proverbial harvest basket.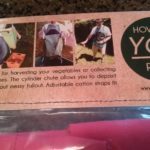 Here are just a few reasons why:
The heavy duty, yet soft and pliable canvas material is lightweight but a very substantial blockade from thorns and dirt.
The straps make for very comfortable and even weight distribution of not only the apron itself but the load you may carry.
The pockets hold tools, stakes, twin and gloves (I'm a dirt-under-the-nails-gal myself)
At the price and my limited skill of stitch-witchery, I could NEVER make one (much less design one) that is this effective.
Wearing it:
Putting it on and wearing it about all day long, I hardly even noticed it was there as I moved throughout the garden. It was not in the least bit cumbersome nor did it inhibit my movement like so many other 'smock' type aprons I'd tried to use before.
It was easy to done all by myself even though there are adjustable straps and hooks.
The ability to tie it up and USE the actual Roo Feature (the load and drop pocket) was simple while wearing The Roo.
For me, nothing that is merely well-made or pretty passes the test unless it is actually functional.  The Roo passed this test with flying colors!  The function of its main feature (the easy load and unload pocket) was really what made me take note of how ingenious this is.
The pocket is a simple fold up style that does have a lot of room for carrying fruits and veggies.  But the fact that with a slip of a knot, you can easily unload a bushel of beans onto a table or into a wheelbarrow without bending over or lifting up the heavy load actually made me try it over and over.
The distance to unload is not so far that you'll bruise your produce and the way The Roo becomes like a gentle 'chute' or 'slide' makes it a controlable exit.  It is almost second nature to unload without harming the harvest.
I highly recommend that you connect with Pantry Paratus and pick up The Roo (in a color of your choosing, of course)! I think, like me, you'll find it comfortable, well-made, easy to use and above all of those features, ingeniously functional.
_________________________________________________________________
Donna Miller is a teacher, author, sought-after speaker and trainer.  She has been both a guest and host on internet and broadcast radio talk-shows and in television interviews.  She enjoys teaching online and local classes & ladies retreats.  Donna is happily married and has three adult children, with one daughter-in-law and one son-in-law. She and her husband (Joseph) are the founders Millers Grain House and YourPreparation Station among other leading entities in the current Preparedness movement.